Expected spend on health and fitness to reach an annual average of £23.9bn, however study reveals half of Brits would cut spend on this to save money.
The expected spendings
Nearly half of Brits would cut spending on health and fitness to make their money go further on other aspects of life, according to a study.
Research of 2,013 adults found that Brits are expected to spend an average of £23.9 Billion* (annually) on supplements, gym clothing and accessories, gym memberships, online meal plans, nutritional advice, online personal training and workout plans and in person PT in 2022.
And looking at supplement spend specifically, the research revealed that Brits are expected to spend an average of £6.3 Billion** (annually) on the following: protein shakes, protein food and snacks, vitamins, organic supplements, weight loss products and vegan specific products.
How much has the cost-living crisis impacted all fitness related spendings?
Despite this expected spend, gym memberships have been the first to go as almost one in five Brits have cancelled more recently, with nearly half (49%) stating that it was too expensive, and they needed to save money.
Whilst 36% of Brits agreed that health and fitness was a priority for them at the start of 2022, at this halfway point in the year, a third are still unsure.
When asked if they have found the right balance of a healthy diet and exercise to achieve fitness goals, 30% stated that they hadn't, whilst just less than a fifth (18%) stated that they have found the right balance.
Richard Mortimer at Nutrimuscle, which commissioned the survey for its inaugural UK fitness report, said:
"Whilst the cost-of-living crisis is at the front and centre of people's minds right now, it's easy to forget that working out and staying healthy doesn't need to be expensive.
"Despite health and fitness spend set to be in the billions this year, we've seen in our research that people are tightening the purse strings and they have found alternative solutions to help keep costs down, such as working out at home."
Working out at the gym? No, thanks!
The majority of those surveyed cancelled gym memberships to save money, however 22% stated that they preferred working out at home now, and one in five had bought lots home workout equipment over the pandemic so wanted to keep using it.
Interestingly, one in five Brits stated that they still didn't want to be around other people so soon after the pandemic.
Despite the cost of keeping fit, nearly 45% of Brits are currently happy with their health and fitness levels, with 25-34 year olds being the happiest out of all age groups surveyed, with nearly half, 48%, stating this.
The weight loss factor
Out of all those surveyed, three quarters of Brits have a main health and fitness goal with the top being weight loss, however twice as many females than males want to lose weight.
Looking at age groups, 37% of 25-34 year olds want to lose weight the most, followed by those who are 55+ (34%).
Richard continued: "For most people, losing weight is a key motivator when they are on a health and fitness journey. However, from our research we have seen that people just want to move more, and essentially want exercise to help with their mental health."
The eight most demotivating gym phrases, according to research by Nutrimuscle:
Motivation is key in achieving success with these goals, however, Nutrimuscle's survey also revealed that fitness phrases are the most demotivating when it comes to working out.
Wed shred (79%)
Gym bunny (79%)
It's not a workout if you haven't recorded it! (77%)
Beast mode (74%)
Gym gains (71%)
Bounced back (e.g. after having a baby) (68%)
Summer body shred (59%)
New year, New Me! (57%)
The research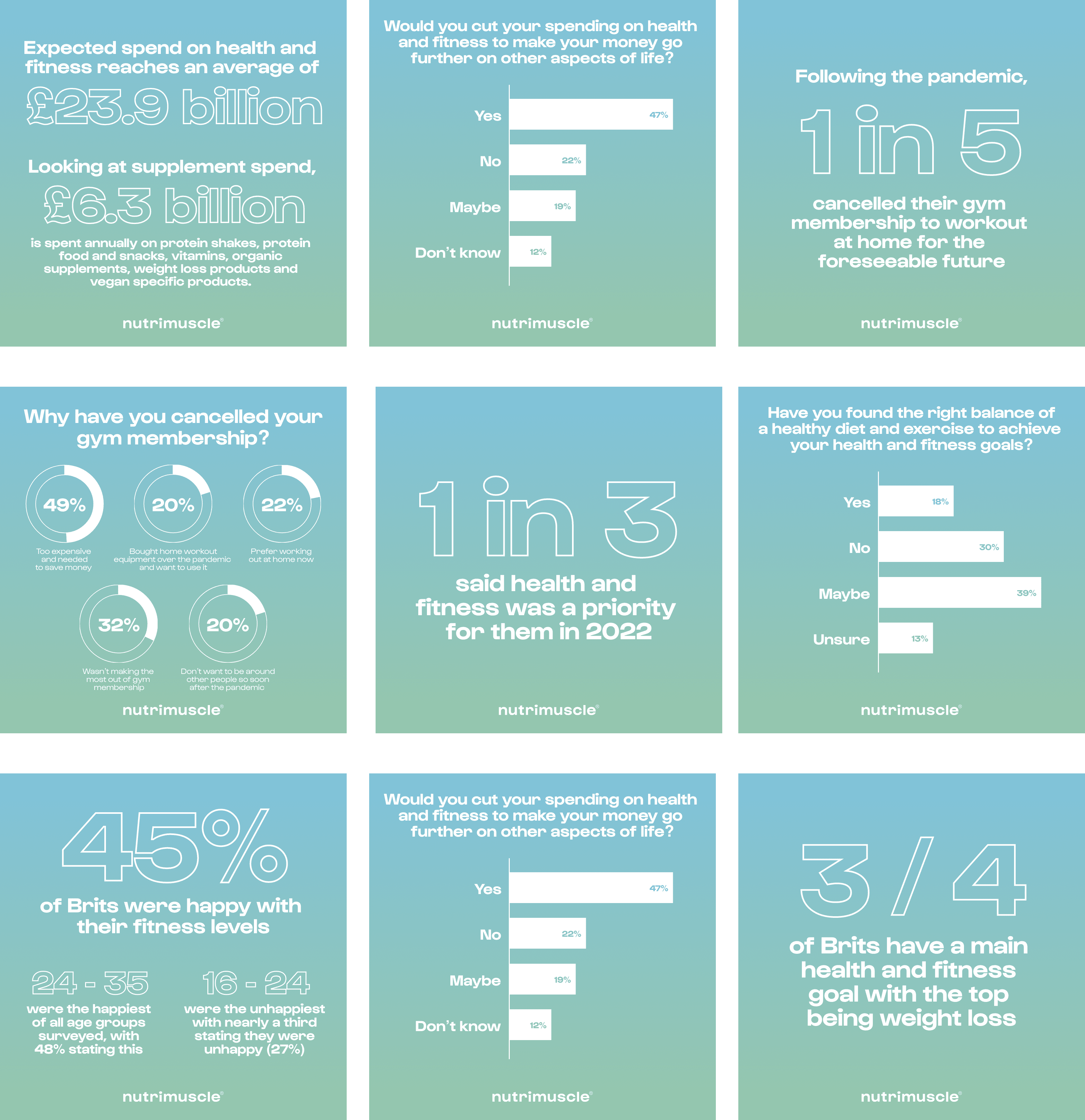 Follow us
Stay updated on the latest news and trends from fitness by subscribing to our newsletter and following us on Instagram. Looking for some advice on nutrition and wellbeing? Follow our blog for our weekly updates.